performance . . .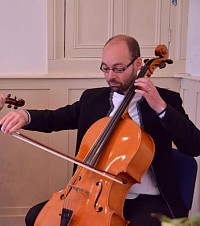 Like all musicians at the moment, I'm not really able to perform due to COVID-19.  However, once I have this side of things up and running again, I will be able to offer the following:
String Quartet
I am the cellist with The Bes Quartet (website coming soon).  We are an experienced and versatile group of string players with varied musical backgrounds, all based in the Yorkshire region.  Our repertoire covers a wide range, from light classical pieces and folk tunes to arrangements of standards by Gershwin and Porter.  We can add class to your wedding.
Jazz Piano

For jazz, I play piano and sing standards from the Great American Songbook. I also incorporate one or two blues numbers in my act. I can perform as a solo act, or augment this to a bigger band if required.
Expect from my gigs smooth Chet Baker-inspired vocals with a strongly blues-based jazz piano style. I can sing any of the jazz standards listed on this site - I like requests!

Folk
Folk music has always been very important to me. Folk cello is a little more unusual, but who could resist the warm, resonant tones of this instrument when applied to the beautiful folk music of the Celtic tradition? I also team up with other folk musicians, and the lineup can be arranged to suit the occasion.